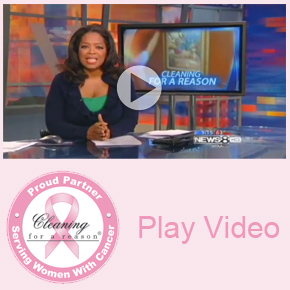 Cleaning for a Reason
You may not think about fighting breast cancer when you order a cleaning service but TAKE TIME is a charter partner with Cleaning for a Reason. A great foundation with a great cause. It allows persons undergoing cancer treatments and fighting this terrible disease to get their home cleaned absolutely free. Since there is so much going on in their lives while they fight cancer one worry of cleaning their home is taken care of. TAKE TIME is proud to serve those and is glad to be a part of this great foundation.
Since June of 2012, TAKE TIME has been a member of this foundation. Cleaning is something that TAKE TIME does well and giving back to the community and helping someone makes the job even more enjoyable. Since women that have cancer undergo treatments that may make them sick it's our privilege to help them out and do what we can to make their lives better.
If you would like to know more information about Cleaning for a Reason or how you can get involved be sure to stop by our offices and visit the website of Cleaning for a Reason at cleaningforareason.org. Making a difference in someones life is worth the effort.